Wyvern 2000RS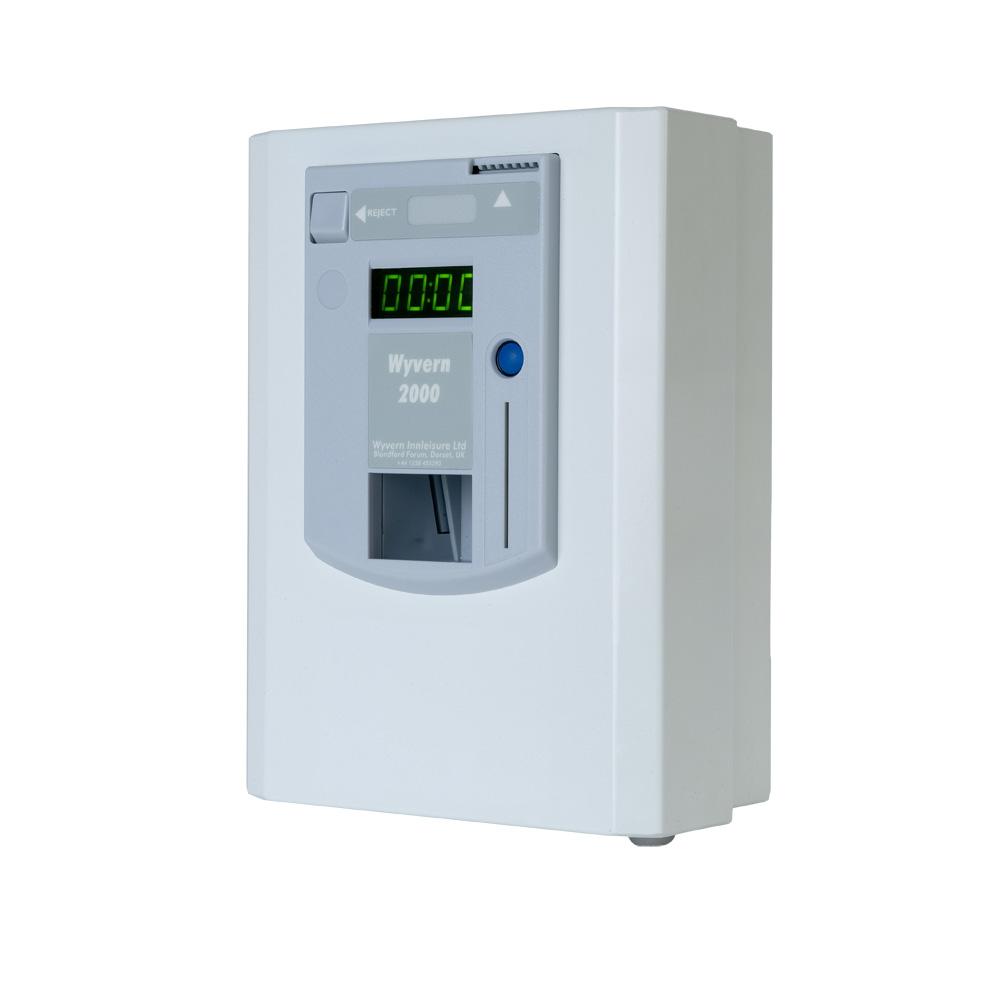 Product Information
Product Code:
964-000-691-200
The Wyvern 2000RS is a smart card operated timer. It is a sister product to the coin operated timer Wyvern 2000R and is similarly designed for security and flexibility. The smart cards are charged with cash or unit values by either a handheld programmer or PC programmer. The cards are rechargeable and can be over-printed with logos or sales messages. The Wyvern 2000RS can be programmed to work exclusively with a smart card or also with coins and tokens.
Peak and off-peak timing cycles are available as a standard feature and an auxiliary output is provided with a programmable run-on time. Both switched outputs are voltage free; this means the Wyvern 2000R can be used to switch a load operating from any voltage, not just mains operated equipment. The facility for the user to install a remote start/stop switch is included as standard.
The case of the Wyvern 2000RS is made from powder coated zintec steel. Power consumption of the timer is approximately 10W (at 230V AC). Loads of up to 1kVA (3A resistive) can be switched directly by the timer, which is typically five 100W incandescent or two 100W fluorescent lamps. Adding the 7kVA option increases the capacity up to a maximum of 7kVA (30A resistive), which is typically one 7kW shower or 12 fluorescent lamps.
Earn
0
reward points with this purchase
Optional Extras
The versatility of the Wyvern 2000R may be further increased with several optional extras:
Wyvern 2000RSMP - Match Play
A key-operated over-ride switch allows the Wyvern 2000R output to be turned on permanently. This is useful for match tournaments on tennis courts and similar facilities or for ease of servicing equipment.
Wyvern 2000RSPB - Panic Button
A push button option allows a 'panic' mode to be implemented. If pressed this immediately shuts down the timer and turns off the equipment being controlled. Note: It is possible for the user to reprogramme the Wyvern 2000R to convert this push button from panic mode to door release functionality (other applications may also be possible).
Wyvern 2000RSDPL - Door Release
Designed specifically for controlling washing machines that automatically lock when not receiving power, the 'door release' variant of the Wyvern 2000R, provides a button on the timer which allows the user to supply power to the machine for 60 seconds to allow the door to be opened and the washing retrieved. Note: It is possible for the user to reprogramme the Wyvern 2000R to convert this push button from door release functionality to panic mode (other applications may also be possible).
Technical Specifications
| | |
| --- | --- |
| Fuses: | Type T HBC 250V breaking capacity, 20 x 5mm FS1 500mA; FS2 & FS3 3.15A |
| Colour: | White epoxy polyester powder case, blue moulded fascia |
| Time Intervals: | Programmable minutes & seconds or hours & minutes (99.59 max) |
| Display: | 0.6 inch high green LED |
| Coin: | User programmable |
| Dimensions: | H: 275mm W: 204mm D: 90mm |
| Weight: | 3.7kg |
| Case: | 18swg mild steel |
| Lock: | Radial 8 pin with two keys |
| Cash Box Capacity: | 400 coins of 23mm diameter x 2.5mm thick |
The item has been added to your basket