Budget Timer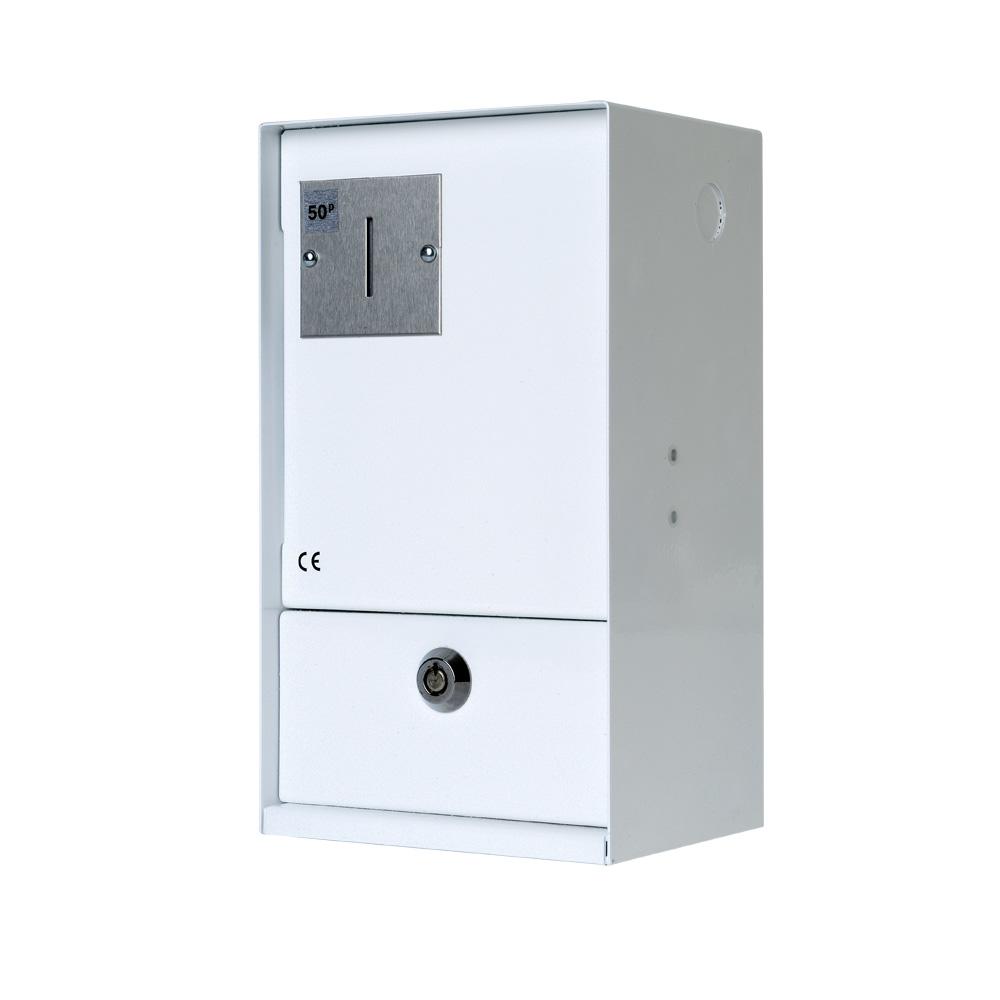 Product Information
Product Code:
964-000-066-000
The Budget Timer has been designed to provide a competitively priced timer for controlling showers, washing machines, tumble dryers and spin dryers and other low value applications. It operates by switching a solenoid valve, an instantaneous shower, or other equipment on a one coin/one operation basis. The mechanical coin acceptor is of the non-reject type so that smaller, incorrect coins fall into the cash box but do not start a timing period. Acceptable coinage is restricted to low value coins, mainly UK and Euro. NB: It does not accept the UK £1 coin.
The time allowed per coin is variable, selection being by an internal switch. In standard operation, each coin or token inserted will reset the timer and commence timing from the start of the timing cycle. A programmable accumulator option is included as standard. This may be used so that each coin inserted will add the programmed time to the time remaining. Time per coin or token may be set from one minute to 63 minutes.
The case is made from powder coated zintec steel. Power consumption of the timer is approximately 10W (at 230V AC). Loads of up to 7kVA (30A resistive) can be switched directly by the timer. A 12kVA option is also available which increases the capacity to a maximum of 12 kVA (40 resistive), which is typically which is typically a 10kW shower or heater.
Earn
0
reward points with this purchase
Optional Extras
The versatility of the Budget Timer can be increased with the addition of a price change option:
Price Change
This additional functionality is a programmable feature that allows the operator to set the machine so that more than one coin or token must be inserted before the timer turns on. The number of coins or tokens required to start the timer can be adjusted from one up to 15.
Technical Specifications
| | |
| --- | --- |
| Fuses: | Fused externally 13A |
| Colour: | White epoxy polyester powder case. |
| Time Intervals: | 1 to 63 Minutes, in 1 minute increments |
| Display: | N/A |
| Coin: | 10p, 20p, 50p, EUR 1, EUR 0.50, EUR 0.20 coins and 004, 005, 006, 007, 015, 016, 018 tokens |
| Dimensions: | H: 250mm W: 145mm D: 110mm |
| Weight: | 4kg |
| Case: | 18swg mild steel |
| Lock: | Radial 8 pin with two keys |
| Cash Box Capacity: | 150 coins of 23mm diameter x 2.5mm thick |
| Switching Capacity: | 7kVA standard, 12kVA optional |
The item has been added to your basket